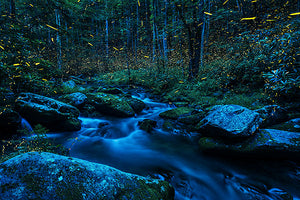 When I am alone at night with fireflies, my mind becomes clearer and my senses, sharper. My thoughts are immersed in my photography and my soul is blessed by the beauty of the fireflies all around me. Waterfall with Synchronous Fireflies.

The Great Smoky Mountains National Park. Photo taken 2019. Image ID: 190605_8564
All the prints are signed by the artist and printed using archival materials.
Free Shipping
within continental USA.
Metal Artwork
Finished artwork, ready to hang.
Prints on Fine Art Paper
Require Framing
Digital File Licensing
To purchase rights to digital files please send me an e-mail with your desired application to Radim@FireflyExperience.org and I will send you a quote depending on the usage.