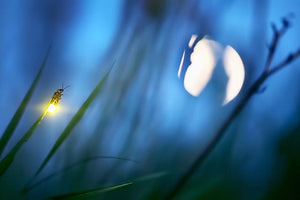 In this photo you see an illuminated firefly and the moon filtered through tall grasses. To take this photo, I had to wait for the right day when the moon was low on the horizon. I climbed into a deep ditch below the road so that I could get a low angle and a direct view of the moon through the grass.
Image ID: 81933
Firefly species: Photinus Pyralis "The big dipper"
All the prints are signed by the artist and printed using archival materials.
Free Shipping
within continental USA.
Metal Artwork
Finished artwork, ready to hang.
Prints on Fine Art Paper
Require Framing
Digital File Licensing
To purchase rights to digital files please send me an e-mail with your desired application to Radim@FireflyExperience.org and I will send you a quote depending on the usage.