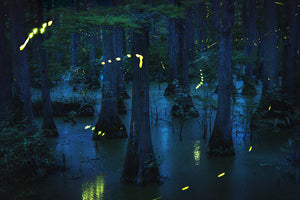 I took this photograph of very elusive, rare, and endangered firefly species in the cypress swamps of southern Illinois. The "Cypress Firefly" Photuris walldoxeyi, first described by Lynn Fast, displays a unique flashing pattern. It has been Red Listed as vulnerable and has only so far been found in handful locations in four states — IL, IN, MS, and TN. Conserve firefly habitat! 
Any size enlargement is available. Image ID: 220526_3r798

All the prints are signed by the artist and printed using archival materials. Free Shipping within continental USA.


Metal Artwork
Finished artwork, ready to hang.

Prints on Fine Art Paper
Require Framing


Digital File Licensing
To purchase rights to digital files please send me an e-mail with your desired application to Radim@FireflyExperience.org and I will send you a quote depending on the usage.