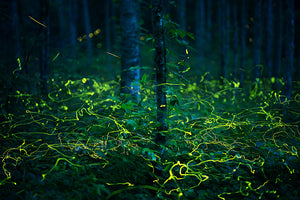 I have been photographing Blue Ghost fireflies for whole last week in North Carolina and Tennessee. In this photo I have seen true peak, with hundreds of fireflies, which was very mesmerizing, almost dizzying. So much movement in almost total darkness. Absolutely incredible. Blue Ghost fireflies are unique species that doesn't blink and stays lit for many seconds or even more than a minute. This photo is called Blue Ghost Warriors, since in some cultures they believe that fireflies are souls of the deceased.

Rocky Fork State Park, Tennessee. Photo taken 2021. Image ID: 210607_3r1747
All the prints are signed by the artist and printed using archival materials.
Free Shipping
within continental USA.
Metal Artwork
Finished artwork, ready to hang.
Prints on Fine Art Paper
Require Framing
Digital File Licensing
To purchase rights to digital files please send me an e-mail with your desired application to Radim@FireflyExperience.org and I will send you a quote depending on the usage.