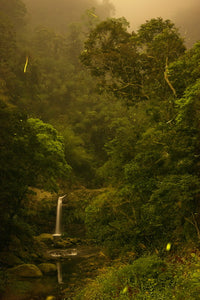 The unique golden colors in this photograph came directly from the camera in the middle of the night, they are perhaps created by the light from nearby streets as it becomes diffused in the mountain fog. You can see two different types of fireflies, here, some are yellow-orange (Abscondita anceyi), others, green (Abscondita cerata).  
Year taken 2017. Image ID: 152270
All the prints are signed by the artist and printed using archival materials.
Free Shipping
within continental USA.
Metal Artwork
Finished artwork, ready to hang.
Prints on Fine Art Paper
Require Framing
Digital File Licensing
To purchase rights to digital files please send me an e-mail with your desired application to Radim@FireflyExperience.org and I will send you a quote depending on the usage.