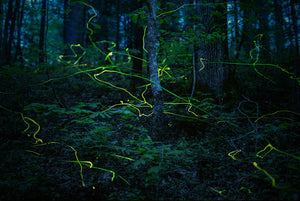 I took this photo recently in the Smoky Mountains National Park. It was a very cold night - but to my surprise few Blue Ghosts showed up to display their unique glow, as if putting whole forest into magical charm. This is a composite exposure over one hour. Blue Ghost fireflies glow only over 50 F degrees, and by the end of my shoot it was just about 50 F, and Blue Ghosts were very slow. I noticed that some of them were flying fairly high, and were pretty dim at times.
People think they are blue. They are not. Their glow color is hard to see with naked eyes at night, but low light camera reveals their real colors.

Firefly species: Phausis reticulata. Multiple Exposure. Image ID: 210512_191315_3s00497
All the prints are signed by the artist and printed using archival materials.
Free Shipping
within continental USA.
Metal Artwork
Finished artwork, ready to hang.
Prints on Fine Art Paper
Require Framing
Digital File Licensing
To purchase rights to digital files please send me an e-mail with your desired application to Radim@FireflyExperience.org and I will send you a quote depending on the usage.