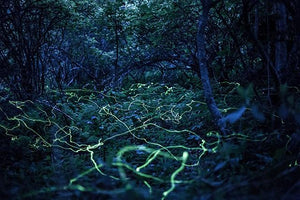 Enigmatic Blue Ghost Firefly. Something inspired me to climb to an overlook in the Blue Ridge Mountains in North Carolina, despite darkness creeping slowly in and I was the last one on the mountain. On the way up I froze in my tracks when I saw a large black bear on the path. He saw me and quietly disappeared in the shady growth. Hesitantly with quite a good deal of fear I continued up the overlook, looking around if I see the bear. When I reached the overlook it was almost dark and I could see barely anything. I quickly started walking back so I can see my path and I slowed down in the spot where I saw the bear. I looked around, being quiet. Suddenly I saw little lights floating around. Within few minutes, in the small growth, I saw little fairies quietly glowing and floating around just above ferns.

These are so called Blue Ghost Fireflies, know by dim long lasting glow. Their glow can last for many seconds, even up to a minute. I started to photograph, and had a great experience. I have a feeling the bear knew the whole time where I was. I find this photo quite psychedelic. Enjoy! I took the photo in 2014. Photo details: single exposure, 49.6 seconds long. Image ID: 106248.

Shorter Version:
The enigmatic Blue Ghost fireflies are known for their eerie dim long-lasting glow. Their lantern can shine for many seconds, even up to a minute. I took this photograph at 5,000 ft. Single exposure 49.6 seconds long.


All the prints are signed by the artist and printed using archival materials. Free Shipping within continental USA.

Metal Artwork
Finished artwork, ready to hang.

Prints on Fine Art Paper
Require Framing


Digital File Licensing
To purchase rights to digital files please send me an e-mail with your desired application to Radim@FireflyExperience.org and I will send you a quote depending on the usage.