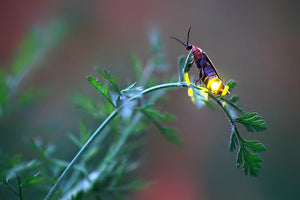 In this photograph is a female firefly of a common Midwest species Photinus Pyralis. This female is sending a signal so her future mate can find her. Notice that her signal light is focused to the small "box" shape area in her abdomen, contrary to male fireflies, that have larger light organs. I took the photo in 2013. Image ID: 80281

I am particularly excited about the clarity of this image, which can be easily enlarged to a very large print.
All the prints are signed by the artist and printed using archival materials.
Free Shipping
within continental USA.
Metal Artwork
Finished artwork, ready to hang.
Prints on Fine Art Paper
Require Framing
Digital File Licensing
To purchase rights to digital files please send me an e-mail with your desired application to Radim@FireflyExperience.org and I will send you a quote depending on the usage.