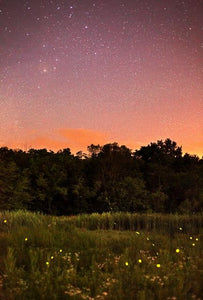 This photograph is a single, thirty-second long exposure. The red hue in the sky with the stars is caused by incandescent street lights from the nearby city.
Fairfield, Iowa. Image ID: 69096
All the prints are signed by the artist and printed using archival materials.
Free Shipping
within continental USA.
Metal Artwork
Finished artwork, ready to hang.
Prints on Fine Art Paper
Require Framing
Digital File Licensing
To purchase rights to digital files please send me an e-mail with your desired application to Radim@FireflyExperience.org and I will send you a quote depending on the usage.