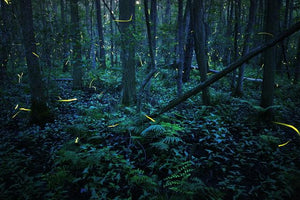 Mystical lantern firefly (Photuris mysticalampas) in the Atlantic white cedar forest in Delaware. This is a very magical species that glows very slowly in the swampy forest, and gives you feeling like you were among fairies.
I took the photo in June with Christopher Heckscher, PhD. who was the first to discover, name and describe this species. Photuris mysticalampas is possibly endangered by habitat loss, since it lives most likely in very small area. I was happy to help document it. Note the rising moon in the photo. I took the photo in 2016.
Multiple 30 second exposures.
All the prints are signed by the artist and printed using archival materials.
Free Shipping
within continental USA.
Metal Artwork
Finished artwork, ready to hang.
Prints on Fine Art Paper
Require Framing
Digital File Licensing
To purchase rights to digital files please send me an e-mail with your desired application to Radim@FireflyExperience.org and I will send you a quote depending on the usage.