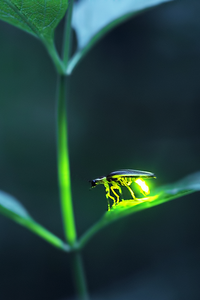 Chinese Lantern is the common name for this firefly species. I observed unique behavior when I was taking this photo. As the firefly lit up, it would pause and bend its lower abdomen almost 90 degrees down, almost touching the leaf.
I took the photo in 2012. Image ID: 89715b
All the prints are signed by the artist and printed using archival materials. 
Metal Artwork
Finished artwork, ready to hang.
Prints on Fine Art Paper
Require Framing
Digital File Licensing
To purchase rights to digital files please send me an e-mail with your desired application to Radim@FireflyExperience.org and I will send you a quote depending on the usage.