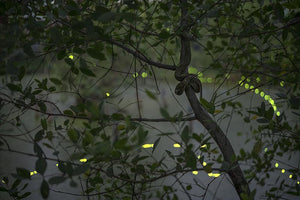 Thailand, 2019, multiple exposures, Image ID: 190121_1669
Pyton and Fireflies - - - When I was in Thailand earlier this year, photographing at night fireflies on a small property with pond, I have suddenly noticed that the tree moved. I looked closely and noticed there was a snake. Not just a snake, but about 6ft long python. I have never seen snake like that in the wild. I got really excited, and started to focus my camera on the snake and hoping to get fireflies in the background. In the photo and video you see my efforts, until...
... in the heat of the moment, when I was running to check on my other camera, I forgot I have a cable that connects to the shutter to my camera in my pocket, and as I run I pulled the camera in the pond right under me. I quickly checked if snake is still on the tree, and it was, than I immediately dived down next to camera, and pulled it out of water. I dried it whole night with rice, but there was still water in the lens and camera. Camera dried up in few days and started to work in about weeks. Lens dried up in about two weeks, and but still have stains in it from the pond. I was impressed that the water didn't get inside the sensor, where metal of camera meets the metal of lens. Japanese precision. The lens  ($1300) got foggy and I already bought a replacement. When I was in Korea, I happen to come across Sony repair center. They said they couldn't do anything in one day, but cleaned my both camera sensors for free. Nice service.
I am glad I got the shots, and even saved my camera.
--------------------------------------------------------------------------------------------------------
All the prints are signed by the artist and printed using archival materials.

Metal Artwork
Finished artwork, ready to hang.

Prints on Fine Art Paper
Require Framing


Digital File Licensing
To purchase rights to digital files please send me an e-mail with your desired application to Radim@FireflyExperience.org and I will send you a quote depending on the usage.