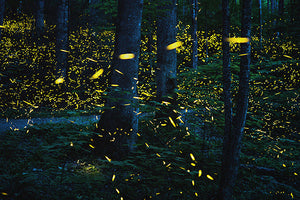 Deep inside the woods of Smoky Mountains are very unique fireflies - Synchronous Fireflies. These fireflies synchronize with each other. I travel almost every year to see them in the Smokies
2019, when I took this photo I shared the experience with couple friends - photographers that took my Firefly Photography Workshop - Kevin J Railsback and Joanna Garrett. We hiked way up the hill, hoping we will not be bothered by lights of other people. Within few minutes came couple ladies on vacation from England, and they were completely blown away by the experience. We had a great connection, and enjoyed fireflies together.
All the prints are signed by the artist and printed using archival materials.
Free Shipping
within continental USA.
Metal Artwork
Finished artwork, ready to hang.
Prints on Fine Art Paper
Require Framing
Digital File Licensing
To purchase rights to digital files please send me an e-mail with your desired application to Radim@FireflyExperience.org and I will send you a quote depending on the usage.