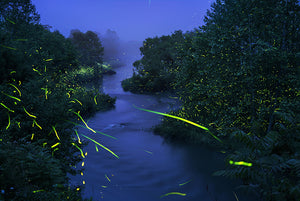 Chinese lantern fireflies and Synchronous Fireflies danced along the banks of a misty Pennsylvania river. The conditions were perfect for capturing the winding river's ethereal beauty, and the Chinese lanterns' magical, two-second green flashes created streaks of light across the photo.
Pennsylvania. Image ID: 190619_568
All the prints are signed by the artist and printed using archival materials.
Free Shipping
within continental USA.
Metal Artwork
Finished artwork, ready to hang.
Prints on Fine Art Paper
Require Framing
Digital File Licensing
To purchase rights to digital files please send me an e-mail with your desired application to Radim@FireflyExperience.org and I will send you a quote depending on the usage.