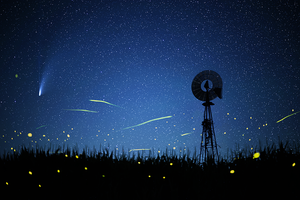 Comet NEOWISE with fireflies, corn field and old-fashioned windmill. I took this photograph in Iowa in late July of summer 2020. The title is July Comets because in the photo there are multiple comets. Comet NEOWISE and July Comets fireflies were named by firefly specialist Lynn Faust because of the long streaks they leave during long exposure. Latin name of the firefly species:
Photuris Lucicrescens. Image ID: 200721_6515
All the prints are signed by the artist and printed using archival materials.
Free Shipping
within continental USA.
Metal Artwork
Finished artwork, ready to hang.
Prints on Fine Art Paper
Require Framing
Digital File Licensing
To purchase rights to digital files please send me an e-mail with your desired application to Radim@FireflyExperience.org and I will send you a quote depending on the usage.