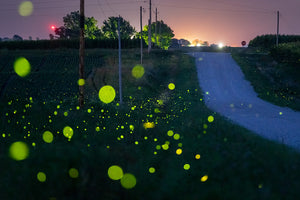 Iowa, 2020, single thirty second exposure, Image ID: 200718_1776
I have taken this photo last summer. Single thirty second exposure. 
I drove more than half an hour from Fairfield, to get a way from city lights to photograph the comet Neowise. As I set-up to photograph the comet, I noticed that in the other direction there were hundreds of fireflies in the ditch. I have used a telephoto lens to capture this photo, which is the reason for larger firefly spots. 
This place was filled with fireflies.
All the prints are signed by the artist and printed using archival materials.
Metal Artwork
Finished artwork, ready to hang.
Prints on Fine Art Paper
Require Framing
Digital File Licensing
To purchase rights to digital files please send me an e-mail with your desired application to Radim@FireflyExperience.org and I will send you a quote depending on the usage.