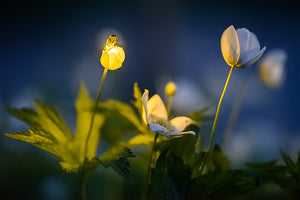 It is amazing how such a small insect can create so much light. The firefly illuminated wood anemone wildflowers in my garden. This photograph felt like a new breath in my firefly photography and even my marriage started to blossom. Single Exposure.
Firefly species: Photinus punctulatus. Single Exposure. Image ID: 170518_958
All the prints are signed by the artist and printed using archival materials.
Free Shipping
within continental USA.
Metal Artwork
Finished artwork, ready to hang.
Prints on Fine Art Paper
Require Framing
Digital File Licensing
To purchase rights to digital files please send me an e-mail with your desired application to Radim@FireflyExperience.org and I will send you a quote depending on the usage.